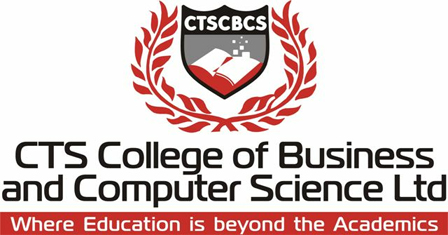 CTS College of Business and Computer Science Ltd.

120 Montrose Main Road, Chaguanas, Trinidad, W.I. Find us on the map

Tel:

(868) 671-2551 / 2872 or 665-6471 or 672-6289 or (868) 777-1294

Fax:

(868) 671-3198

CTS College of Business and Computer Science

Education Beyond Academics


Established in October 1999, CTS College of Business and Computer Science (CTSCBCS) offers a wide range of programs from secondary to post graduate degree. It has evolved into one of the most respected academic institutions in the country, producing high quality, well rounded professionals to match the capabilities of top graduates around the world. CTSCBCS aspires beyond academics and strives to prepare students with a diverse working knowledge of today's organization.

CTS College offers accredited programmes such as diploma and higher diploma courses in both IT and Business Management – including Human Resource Management, Finance and Marketing; bachelor degrees in Computer Science, Information Technology and Business Administration and post graduate degree in Business Administration. In addition, CTSCBCS also offers a range of technical certification programmes to compliment the academic programmes as well as Professional Development Programmes such as Supervisory Management and Event Management to broaden the skills set of individuals to improve their marketability.

Our tertiary programmes are very affordable; ACTT recognised and can be completed in a realistic timeframe. The masters and bachelor programs provide students with a combination of knowledge, practical experiences and work experience to develop a successful career in the organization. It allows them to obtain a recognised degree and is seen as a passport towards a successful career.

The college's learning environment is fully supported by the academic and administrative staff who are fully trained to deliver professional and personalised student support services. CTSCBCS reputation and their key to success is reflected in their simple but powerful motto "Where Education is Beyond Academics", a statement that has indeed been attested to by the hundreds of students who graduate each year.

CTS College provides an educational experience that takes students to the top of any career path they choose, leading to their development and realising the true potential that is required for this country's strategic objectives and development.

Some of the programmes offered by CTS College include:

• 12-Month MBA
• 1 Year BSc Computer Science
• 1 Year BA (Hons) Business Administration
• 2 Year Bachelor's in Business Administration
• ABE Programmes in MIS, Business Management, Finance, Marketing, Human Resource Management
To contact this college please select a course of interest to you below, and fill out the enquiry form on this page.